McGruff the Crime Dog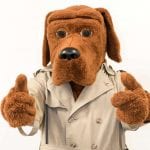 McGruff the Crime Dog is the national mascot created for the National Crime Prevention Council that helps law enforcement build crime awareness. His job is to help people, especially kids, learn how to "Take a Bite Out of Crime".
McGruff partners with the Duplin County Sheriff's Office to make personal appearances to communicate to kids how to protect themselves, their families and their neighborhoods against crime.
McGruff Programs:
Internet safety
Anti-bullying
Home safety
Community safety
Guns safety
Drugs, gangs and other dangers
Contact Sgt. Randy Forster if you are interested in having McGruff visit your school, organization, or community event at 910-296-2150.