Detention
Detention Center Phone Number: 910-296-2324
Mission Statement
To provide a county jail that is safe and secure for staff and inmates that meets or exceeds all constitutional requirements and North Carolina Jail Standards.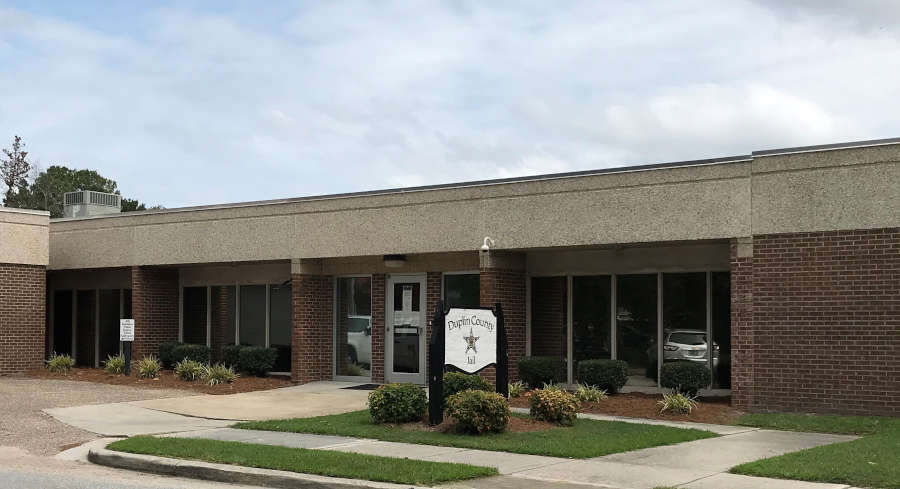 Overview
The Duplin County Sheriff's Office Detention Center houses all persons arrested in Duplin County by local law enforcement. It is located adjacent to the Duplin County Sheriff's Office at 208 Duplin Street in Kenansville, North Carolina. The 97 bed facility is staffed by 29 employees including 16 detention officers working 12-hour rotating shifts from 7 AM – 7 PM to provide 24 hour secure custody for both male and female inmates.
Inmates held at the Duplin County Detention center range from those charged with offenses such as theft and non-payment of child support to felony offenses such as rape and murder. Non-violent, minimum security offenders assist in the detention center kitchen, provide lawn care for the sheriff office grounds, wash cars for the detectives and patrol deputies, work on the road crew providing litter pick up along roadways throughout the county, clean up public cemeteries, and provide cleaning and painting services at local schools during the summer months.
The detention center operates under the orders of the sheriff and is supervised by a captain and a lieutenant who are responsible for overseeing the day-to-day operation of the detention facility in accordance with state laws and regulations. Some of the responsibilities of the DCSO Detention Center include:
Booking, Fingerprinting and photographing all persons admitted to the facility
Provide for the care of inmates with clothing, food, and medical services
Implement policies and procedures to insure the safety of inmates, personnel, and the public
Conduct daily physical inspections of cell blocks and all areas of the facility to insure high-level security is maintained
Monitor the security system consisting of numerous cameras recording 24/7 and electronically controlled doors from a central control room.
Manage inmate labor programs
Inmate Visitation – Main Jail
Saturday
1:00 p. m. – 2:00 p. m. Female inmates with last name beginning with letters A through L
2:00 p. m. – 4:00 p. m. Male inmates with last name beginning with letters A through L
Sunday
1:00 p. m. – 2:00 p. m. Female inmates with last name beginning with letters M through Z
2:00 p. m. – 4:00 p. m. Male inmates with last name beginning with letters M through Z
The last visitor goes in 20 minutes prior to the end of visitation. For example, if visitation is 2:00 p. m. to 4:00 p. m. , all visitors should register by 3:40 p. m.
Upon admission to the detention center, inmates will be allowed to list up to eight family members or friends that they would like to visit them at the center. This list may only be changed every 60 days. All visitors must be on the inmate's approved list.
Visitors must be 16 or older unless permission is given by sheriff or jail command staff. A parent or legal guardian must accompany visitors under the age of 18.
Two visitors for 20 minutes at the same time per week are allowed. All visits will be non-contact.
Visitors must present a valid driver's license, government identification card or other photo identification.
Inmates validated as a security threat will not be allowed visits.
All visitors are subject search.
Visitors must dress appropriately. Shirt and shoes are required. Tube tops, swimsuits, see-through clothing or clothing containing foul language or sexually explicit pictures or words will not be allowed and visitors will be asked to leave.
Professional visitors such as attorneys, legal representatives, legal aid workers, or other legal workers and clergy members may visit Monday through Friday between 8:00 a. m. and 5:00 p. m. Professional visits will be held in the legal/attorney visitation rooms inside the detention center.
Inmate Mail
Inmate mail should be addressed to:
Duplin County Detention Center
Inmate Name
P. O. Box 908
Kenansville, NC 28349
Mail delivery will occur Monday through Friday except on legal holidays. All mail except legal mail or other privileged mail is opened and inspected for contraband. Legal and privileged mail will be opened in the presence of the inmate. Whether mail is "general" or "privileged" will be determined by the chief jailer.
Inmate Phone Service
The detention center cannot receive any incoming phone calls or take messages for inmates. Telephone service is available in each cellblock of the facility for use by inmates from 7:00 a. m. until 11:00 p. m. ; however, only collect or prepaid calls using a phone debit card is available. Telephone service is contracted with PayTel Communications. Minutes for inmate collect calls may be purchased by calling PayTel at 1-800-PAY-TELL (1-800-729-8335). Inmates are allowed to talk for 10-minute increments. After 10 minutes, the phone call will automatically terminate. Inmates may place as many phone calls as desired during those hours the phone is operational. To set up an account for an inmate or for additional questions, visit PayTel's website at or at the above toll free number.
Inmate Accounts
Upon entry to the detention facility, a financial account is created for each inmate. Family and friends of inmates can deposit funds into the account by money order only. Inmates can use the funds from this account to purchase snacks, beverages, and additional personal hygiene care items once a week through Oasis Commissary Service. Orders are placed by Tuesday of each week and are delivered the next day.
Inmate Court Date Information
Court dates for inmates are found on the website. If you need additional information about court dates or the court process, contact the Duplin County Clerk of Court at 910-275-7000.